The benefits that No-Rosion offers were unlike those of any other product on the market at the time of it's introduction. It met the very specialized needs of automotive preservationists. For this reason, it rapidly established a following of hard-core car enthusiasts with some high-dollar collections.
In 1996, we were invited by the late Mr. J.B. Nethercutt to his spectacular collection in Sylmar, California. Mr. Nethercutt was the founder of Merle Norman Cosmetics, and had assembled a rare collection of Duesenbergs, Bugattis, Cadillacs, Hispanzo Suizas, Ferraris, Lincolns, Packards, Mercedes, Rolls Royces, and Pierce Arrows. He requested our guidance in the long-term preservation efforts of the cooling systems of each of his cars. His collection had already been described by automotive authorities as being one of "the most significant in the world."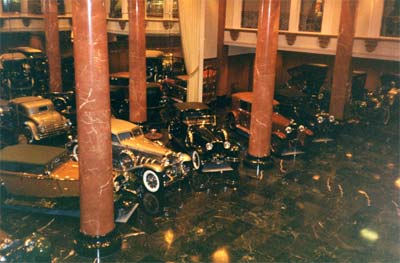 Inside the "Grand Salon" at the Nethercutt Collection in Sylmar, California.
Mr. Nethercutt, himself a chemist, understood the chemistry behind No-Rosion. He hired a person whose only job it was to add and maintain No-Rosion in the cooling systems of each of his rare and valuable examples -- many of which competed, and won, at Pebble Beach.
But before an ounce of No-Rosion was added to any of his cars, he had to be certain that we were stable, and that we planned to be around for a while. He had already made arrangements that assured his collection would remain in tact long after his passing. "I don't use any product unless I know that it will be around as long as my collection."
He also mandated that we have several conversations with his "technical consultant," Mr. Phil Hill. It was only after we had answered all of Mr. Hill's questions to his satisfaction, and after he had completed his research into the long-term stability of our firm, that he proceeded with adding No-Rosion to the cooling systems of his cars.
"Collecting and restoring old cars is more than a hobby," he once said. "It is a commitment to preserving the past for future generations." Applied Chemical Specialties is proud to be a part of his long-term preservation efforts with our No-Rosion products.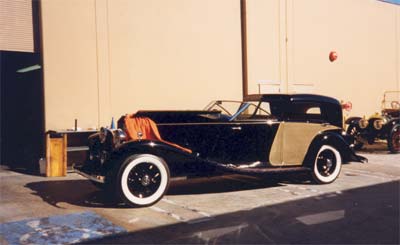 Mr. Nethercutt's rare 1930 Rolls-Royce Phantom II Brewster Town Car,
with radiator cap off, having No-Rosion being added to the cooling system.
While consulting with Mr. Nethercutt during a visit to Sylmar, we were introduced to a friend and fellow collector who was visiting that day -- Jay Leno. This is how we came to assist Jay with preserving the cooling systems of his impressive collection of cars as well.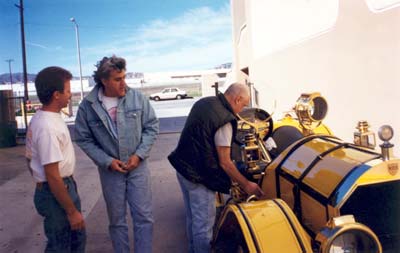 Here's Jay visiting the Nethercutt Collection in Sylmar with his
1913 Mercer Raceabout. As a high performance vehicle in it's day,
it has a monocle windshield and rare Rudge knock-off wheels.
During the late 1990's and early 2000's, we remained active in researching, developing, and manufacturing various private label coolant additives for a number of domestic and international brands. We advertised very infrequently. Sales grew via word of mouth within collector car circles. No-Rosion was once described tongue-in-cheek by a Pebble Beach award winner as, "The product we all use, but don't talk much about."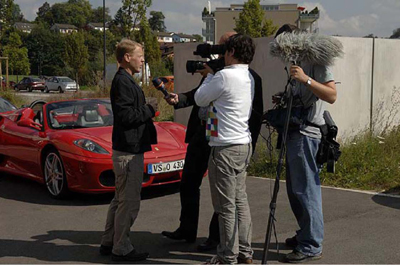 Conducting an interview with Deutsche Welle television in Germany,
regarding the engine cooling benefits of using HyperKuhl SuperCoolant
in the cooling systems of vehicles driven on the autobahn.
In 2008, we wrapped up several years of research in Germany. We tested high cloud point surfactants used as heat transfer agents in the cooling systems of high performance vehicles. They were run at high speeds for long durations on the autobahn. The results were used to formulate a new, high performance coolant additive to be called HyperKuhl SuperCoolant. It was launched at the SEMA Show, where it received a Global Media Award as one of the year's best new products.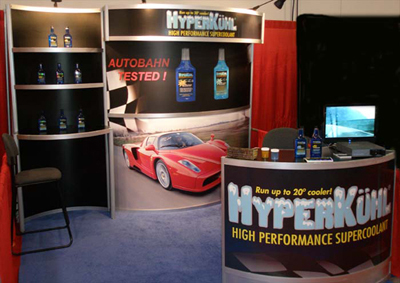 The HyperKuhl booth during it's launch at the 2008 SEMA Show in Las Vegas.
Today our products can be found in the cooling systems of vehicles across the globe. This includes over 40 cars that have won awards at the prestigious Pebble Beach Concours dElegance during the last 8 years. Mr. Nethercutt himself has won Best of Show at Pebble Beach six times in the last 35 years -- more than any other collector in history.
Our mission remains the same today as it was when we began in 1995 -- TO PROVIDE THE HIGHEST QUALITY COOLANT ADDITIVES AVAILABLE. Have you ever gone to a parts store and found a product that sells for $4.99, and comes with a $2.00 rebate? How do you think those manufacturers can afford to do that? By cutting corners on product quality!
If you have a car or truck that you take special care of, or that you want to last well into the future, you need to treat it right. And that means using products that are formulated using the BEST, MOST PREMIUM ingredients available. The same chemistry behind our No-Rosion and HyperKuhl products is used by several industrial facilities to protect sensitive aluminum tubing in their Toshiba heat-exchangers. The tubing alone has a replacement value of over $1 million.
So when you pour a bottle of No-Rosion into the cooling system of your 1932 Packard, 1969 Camaro, 1997 Freightliner, or even your $8 million Duesenberg, you can be confident that you have chosen the absolute finest chemical technology available on the market today. For this reason, we offer a 100% money-back satisfaction guarantee on all our products.